Rotary arm stretch wrapper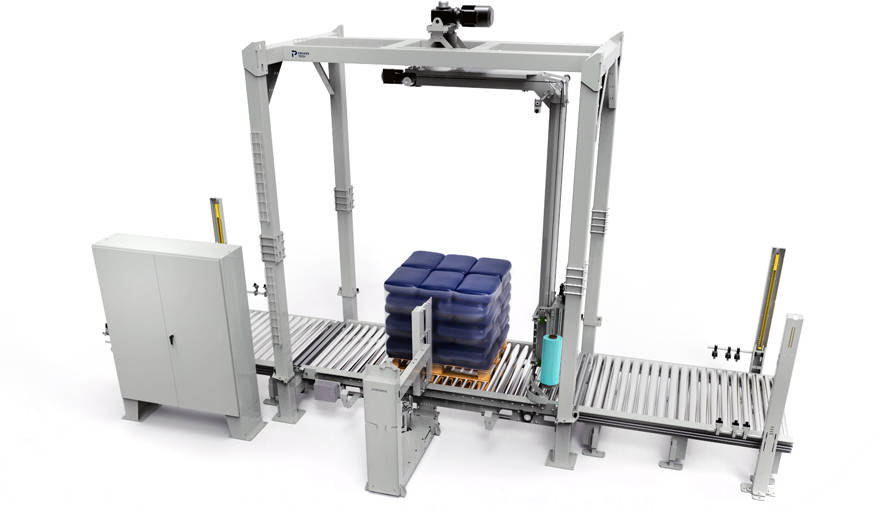 The LW-300 Rotary Arm Stretch Wrapper is a fully automatic system designed to apply a mechanically pre-stretched film with tension to a pallet load. Its overhead rotary arm, which eliminates the need to rotate the load, allows for the high-speed wrapping of heavy or unstable loads with consistent tension. Furthermore, the LW-300 stretch wrapper can achieve up to 95 loads per hour while maintaining a precise control of the film's tension and strength. IT can replace up to 5 turntable stretch wrappers! 
Its four built-in wrapping modes enable the selection of the fastest, most efficient method to unitize the load. Different parameter sets allow meeting the securing requirements for each product to be wrapped. The LW Series Stretch Wrapper can integrate a top sheet dispenser. The sheet will be unrolled, cut to size and automatically applied to the top of the load during the wrapping cycle, providing a water-resistant layer. Finally, with its rugged and high-quality design, the LW-300 Rotary Arm Stretch Wrapper ensures long-term reliability and constant operations.
Features
Quick and simple film roll changeover
---
Noiseless running
---
User-friendly operator interface
---
Customized solutions available
---
Easy access to all components, quick maintenance and adjustments
---
Quick installation time (no wiring needed)
Options
Top sheet dispenser
---
High speed upgrade
---
Flap folder system to protect the bottom layers
---
Electric load lift
---
Variable pre-stretch
This equipment is adapted for