Proud 

FANUC

integrator and award winner
Premier Tech has received numerous sales and growth awards over the years
i.e.
Growth Award recognizes outstanding growth of robot sales year over year.
Sales Award recognizes an exemplary level of robot sales within the calendar year.
Who is FANUC?
FANUC provides industry-leading robotics, CNCs, and ROBOMACHINE solutions. With over 25 million products installed worldwide, FANUC is the most familiar brand of manufacturing automation.
From small shops to large complex operations, manufacturers rely on FANUC's automation technologies to help improve productivity, increase quality, maximize profits and maintain a competitive edge.
FANUC embraces a culture of "Service First" which means that customer service is their highest priority. FANUC is committed to supplying customers that utilize their technologies with parts and support for the production life of their FANUC products.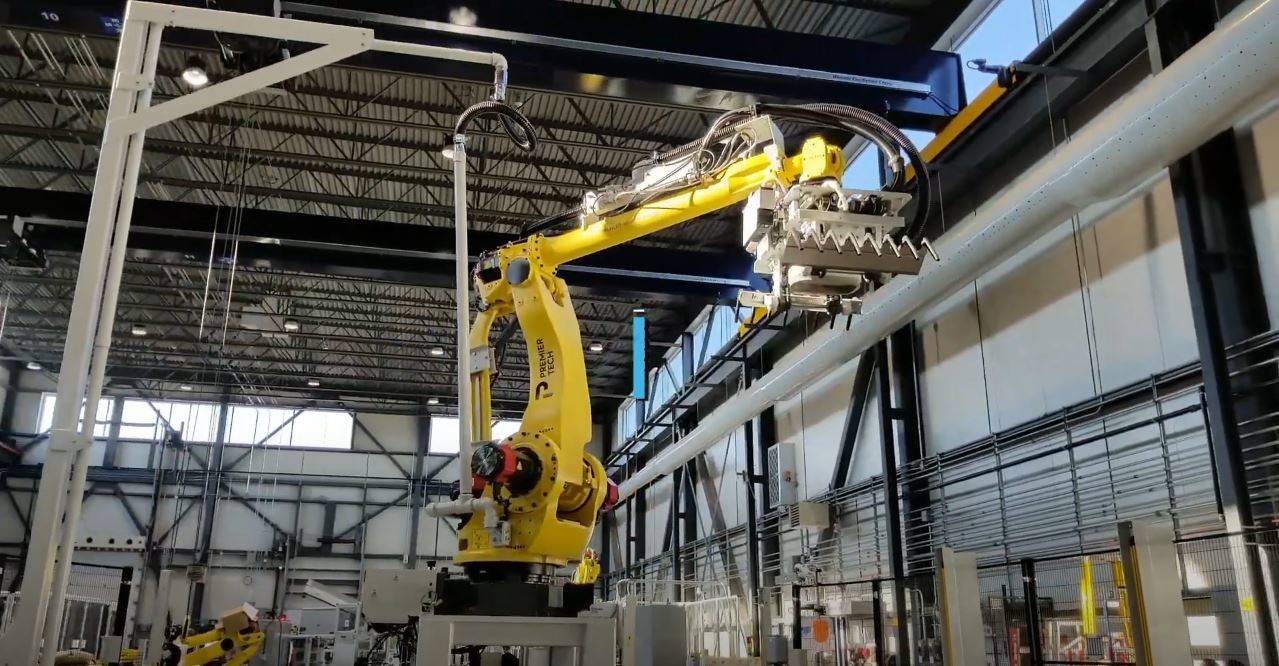 Premier Tech as a FANUC Integrator
 
Premier Tech joined the FANUC ASI program in 2003 as an Authorized System Integrator.
FANUC Robots Integrated to date
 
Premier Tech has integrated more than 1700 robots since the beginning of its partnership.
Authorized System Integrator
The FANUC ASI program has been in place since 1996. The objective was to develop a comprehensive, effective, and competitive network of capable automation systems integrators to help achieve increased market share, unit share and market penetration. «Premier Tech is considered one of FANUC's bag palletizing specialists».
 
Certified Vision Specialist
A certified vision specialist is an ASI that has demonstrated performance and is recognized as having a higher level of vision capabilities and market strategy.
 
High-Speed Picking Specialist
A high-speed picking specialist is an authorized systems integrator that has successfully completed the vision specialist certification AND the additional iRPickTool certification.
Premier Tech is committed to delivering robotic solutions that meet the highest safety standards in the industry, and that's why we partner with like-minded business leader FANUC. Each of our systems is rigorously tested and analyzed to ensure that all human interaction with machinery is risk-free. 
Discover the latest in safety features 
We use a combination of software and hardware to meet safety performance standards. Each machine's electrical control panel is cULus certified and includes dual-channel safety components. 
The perimeter of each robotic cell is enclosed with 8ft fences and interlocked doors with trapped key switches, light curtains, or a safety tunnel to prevent human contact with moving parts. 
Every robotic cell complies with safety standards ISO 10218-1, ISO 10218-2 and ANSI B155.1-2006 (which supersedes ANSI/RIA 15.06-1999 and CSA-Z434 standards). 
The FANUC DCS option is included in every robotic palletizing cell. It offers 4 key advantages over conventional methods: 
Motion limits can be defined in a rectangular (Cartesian) shape, making better use of floor space.  
Individual wrist axes can be limited to prevent unintended motion of end-of-arm tooling and part, thereby reducing hazards and machine footprint. 
Robot speed can be restricted, unlike a conventional machine which is limited to hard stops. 
Less need for peripheral devices means less cost. 
Discover Premier Tech's robotic palletizers and case packers
If you're looking to improve the safety of your employees while increasing production capacity and your overall uptime, check out our latest offerings in robotic case packing and palletizing equipment.