Wide selection of Bagging Machines
Premier Tech is one of the world's leading manufacturers and suppliers of industrial bag packaging machines. With one of the largest product portfolios in the industry, Premier Tech can provide bagging machines for almost any kind of bags heavier than 5 kg. Premier Tech offers a comprehensive product portfolio, including manual bagging machines, valve bag fillers, open-mouth bagging machines, compression baggers, bulk bag fillers, form fill & seal bagging machines, etc. This wide variety of bagger machines allows to fill bags with powders, granules, flakes, fibrous materials and large particles. In addition to its bagging machines, Premier Tech also manufactures and sells bag palletizers, stretch wrappers and stretch hooders. For more information about these bagger machines, see the page below.

No matter the size of your project, your budget or the type of bag, Premier Tech can provide you with a bagging machine that will perfectly fit your needs.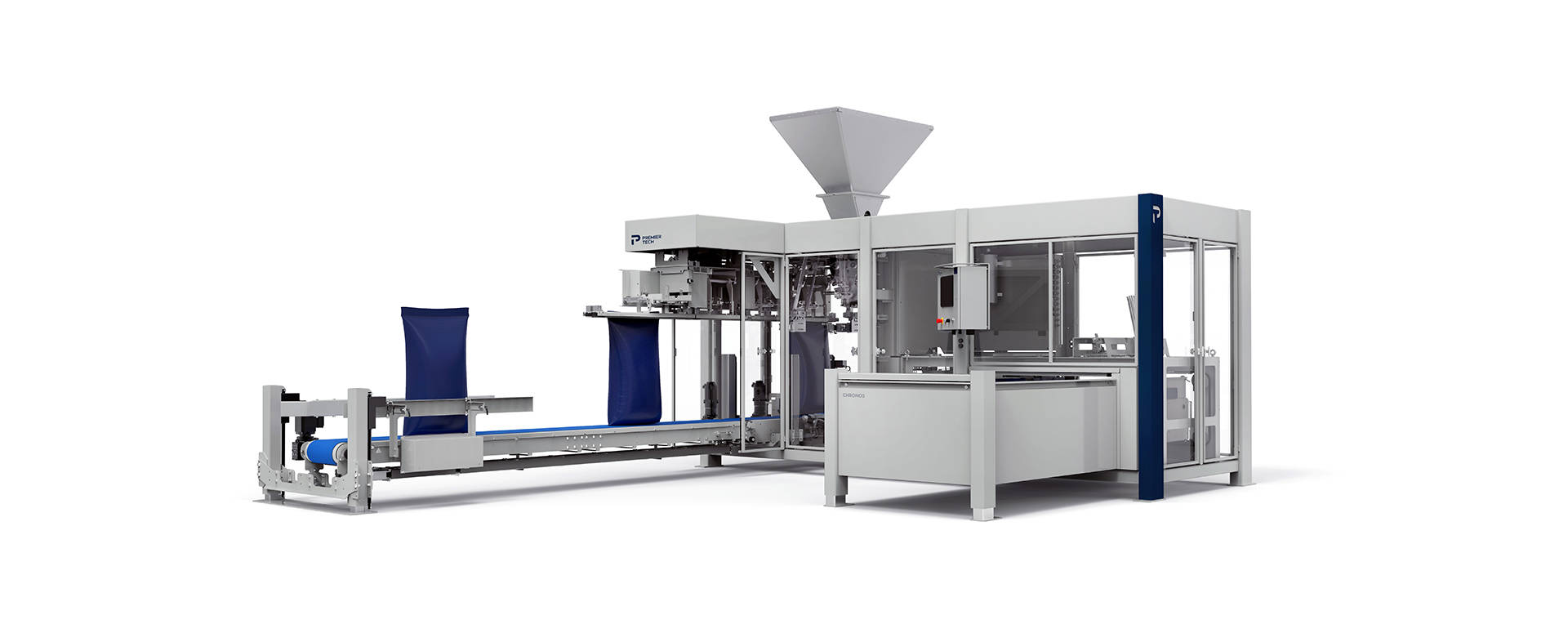 Production rate
up to 40 bags per minute
Products handled
fibers, flakes, granules, pellets, coarse aggregates
Open-mouth baggers are a game changer because of their versatility and speed. They can easily handle powders and granular materials such as food, feed, seed, minerals, and chemicals. They are also extremely fast and they can bag many different products thanks to their compatibility with a large number of bagging scales. Since there are several types of packaging materials – namely paper, polywoven and polyethylene – it becomes necessary to find a manufacturer that can provide you with highly versatile equipment.
There are usually 3 types of process to seal/close an open-mouth bag: sewing, heat sealing or gluing. Our baggers are designed to easily integrate any type of bag sealing machines. At Premier Tech, we are the most important manufacturer of open-mouth baggers worldwide for bags of 5kg and heavier. 
 
Form Fill and Seal Bagging Machines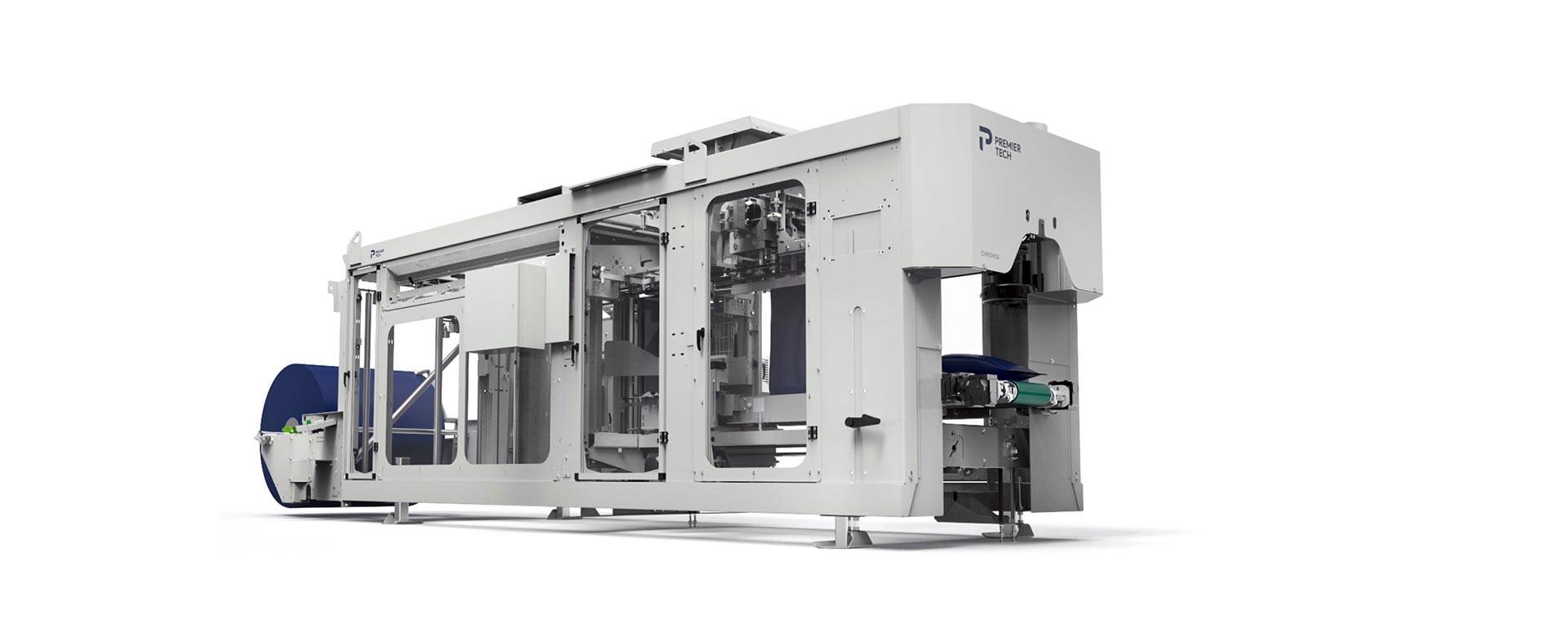 Production rate
up to 25 bags per minute
Products handled
powders, granules, fibers, pellets, flakes
When it comes to cost reduction, the way you package your product can have a tremendous impact. The particularity of a Form fill and seal (FFS) bagging machine is that it makes its own bags from a plastic film roll before filling it. That specific feature can allow you to make significant savings compare to using pre-made bags.
Premier Tech is a leading supplier of FFS bagging systems for bags heavier than 5kg. Our equipment can handle a wide range of products using a weighing scale or a volumetric feeder depending on the type of product you need to bag.
 
Bulk Bag Filling Machines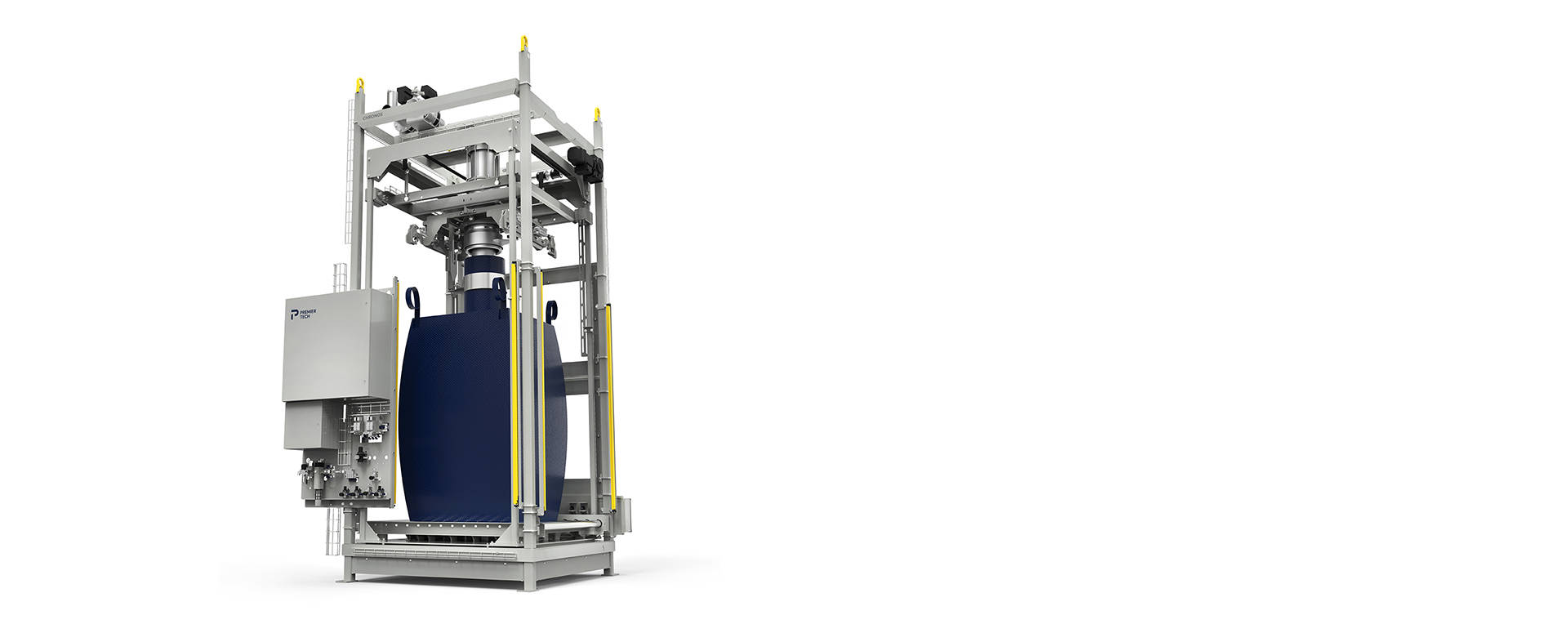 Production rate
up to 30 bags per hour
Products handled
powders, granules, pellets, flakes
Sometimes, you just need bigger bags without compromise on accuracy. Designed for bags with a capacity of 4,400 lb, bulk bag fillers are ideal for packaging accurately measured dry granular flakes or powdered materials. Premier Tech's simple and rugged designs make these bulk bag filling machines not only user-friendly but also precise and affordable. Our bulk bag fillers are offered in semi or fully automatic versions, depending on the level of automation required.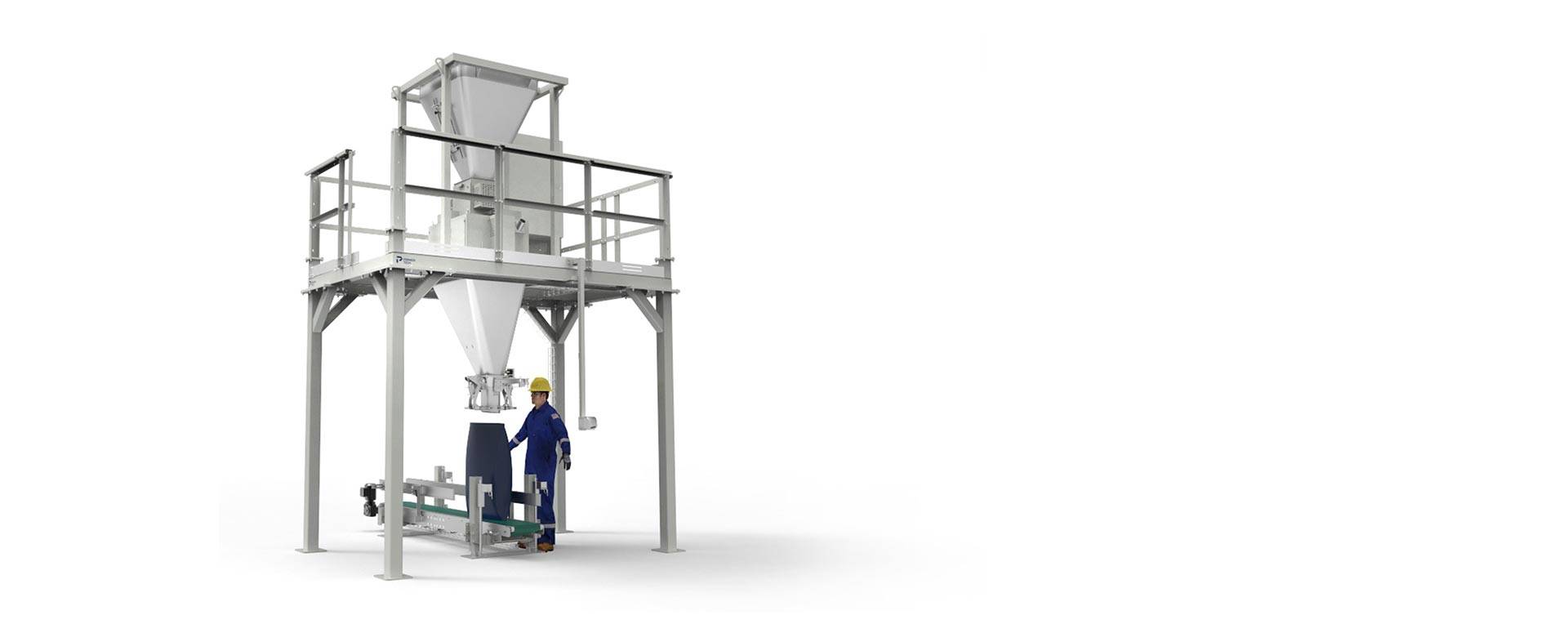 Production rate
up to 20 bags per minute
Products handled
fibers, flakes, granules, pellets,
coarse aggregates
Looking to minimize your investment while obtaining an equipment with the ability to grow with your production? Premier Tech is an important manufacturer of manual and semi automatic bagging machines for bags heavier than 5 kg. Our wide range of manual bagging machines can use either net weight or gross weight scales and handle a variety of open-mouth bags. Thanks to the versatility of our scales, these manual bagging machines can eventually be upgraded to become fully automated equipment.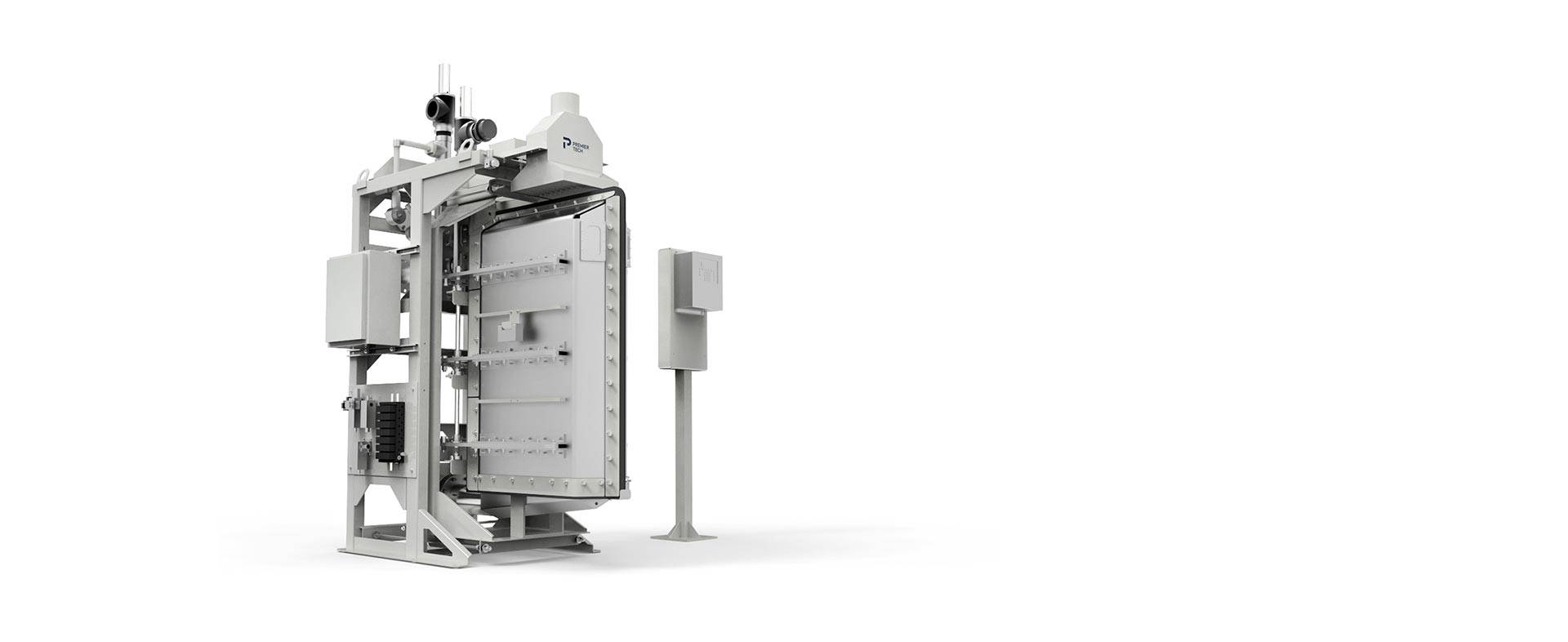 Production rate
up to 8 bags per minute
Products handled
flakes, granules, pellets, powders
Valve baggers don't always have the reputation for being the most precise. That is why we added our SpeedAC weight controller to our valve baggers, which allows you complete control over the bagging process. Better control over the amounts being bagged inevitably leads to less dust, and less cleanup.
Premier Tech is an international leader in valve bag fillers throughout several industries, primarily chemicals, minerals and foods. We can provide everything you need: vacuum valve bag fillers, air packers, auger valve bag fillers and impeller valve bag fillers.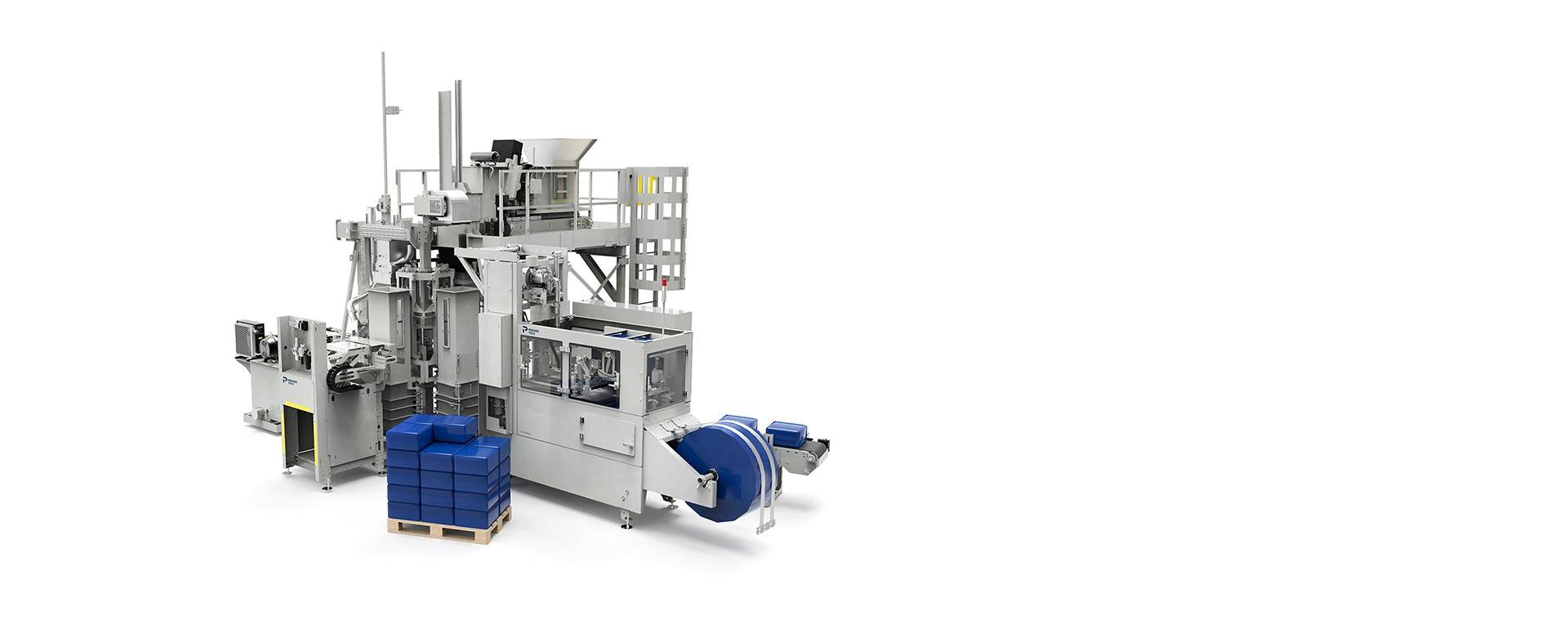 Production rate
up to 7 bags per minute
Products handled
fibers, flakes
Compression baggers solve multiple issues for soil bagging operations. The most obvious one being the size constraints. Several dozens of pounds of soil can be compressed to a cube measuring only a couple of cubic feet. Since your finished product is much smaller than traditional bags, it becomes easier to ship twice as much product, twice as far for the same price.
Compressed bales are also easier to organize on pallets and much less prone to bag tears because they never hang off a pallet. Premier Tech is one of the most important compression bagger manufacturers worldwide, supplying compression baggers for manufacturers of wood shavings, peat moss and insulation materials.