Conveyor mounted ultrasonic sealer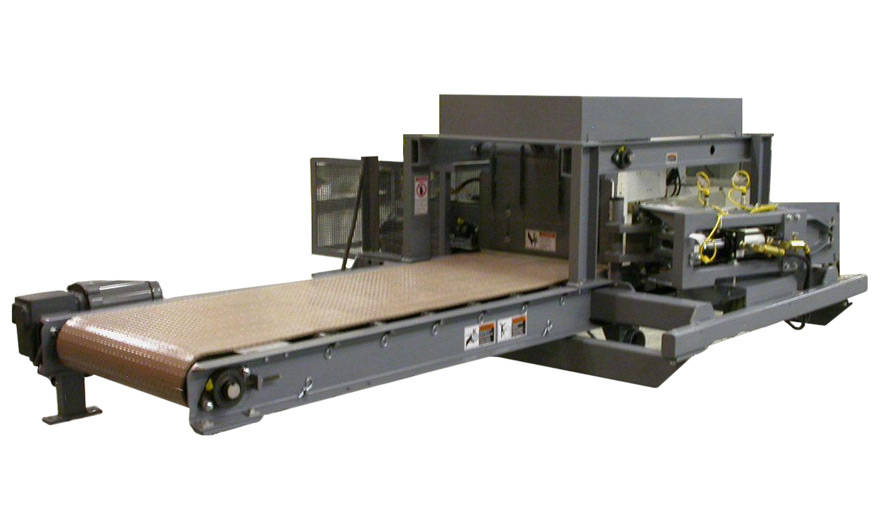 The Conveyor Mounted Ultrasonic Sealer Models 2001/2002 are a patented positive valve bag sealing means that uses ultrasonic energy, not heat, for a cleaner weld and no product degradation. They are designed to seal a wide variety of products in valve bags, and work with Premier Tech air, auger and impeller packers.
The Model US2001 ultrasonic sealer is a single deck "in-line" machine that seals 8 to 10 bags a minute in the conveyor line . The Model US2002 ultrasonic sealer is a higher speed, double-deck version with two sealers stacked one on top of the other.  A bag diverter alternately sends the bags to the upper and lower sealer decks.  Sealing rates of up to 20 bags a minute are attainable with the Model US2002.
The US2001 and US2002 in-line valve sealers use ultrasonic energy to displace product from the seal area of extended sleeved valve bags and weld the sealable sleeve. The sealed bag is immediately released to a downstream conveyor.
The US2001 and US2002 use the same rugged PINSONIC Ultrasonic components used in the other models of Premier Tech Ultrasonic sealers.
Features
Ultrasonic sealing method - no heat used
---
High speed unit for multiple packers
---
Low cost valve sealing
---
Minimum floor space requirement
---
Rugged PINSONIC type Ultrasonic Components
Options
Choice of Lexan (plexiglass) or perforated steel guard material
---
Easy Adjust Side Former - enables valve bag size adjustments to be made without hand tools
---
Power Lock Down Easy Adjust Side Push - allows adjustment to be made without opening the guard door