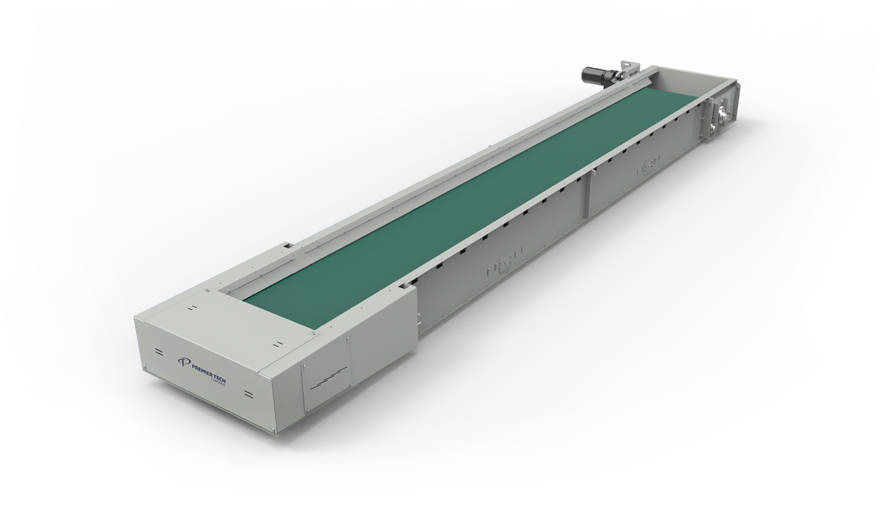 The belt and chain conveyors can be used to collect, transport or stockpile a wide variety of bulk materials. Whether you are looking for a troughed belt, a flat bed, a cleated belt, a drag chain or a steel apron conveyor, Premier Tech offers a complete range of bulk conveyor lines for standard or heavy-duty applications.
Features
Shaft-mounted gear motor for less maintenance
---
Modular 10-ft (3 m) sections for easy assembly and future length modifications
---
Easy belt tensioning at the tail
---
Return roller(s) supporting the belt
---
Belt support and skirtings allowing for improved sealing and spillage control
---
Tensioned cleaning scraper
---
Lagged head pulley
---
Safety guards included and in accordance with highest regulations (OSHA,CSA,CE)
Options
Vulcanized belt joint
---
Rockline® spring-loaded belt cleaner
---
Chevron belt
---
TorqLOC® mounting system
---
Self-cleaning tail pulley
---
Central take-up for bidirectional use
---
® Rockline is a registered trademark of Flexible Steel Lacing Company. ® TorqLOC is a registered trademark of SEW-Eurodrive.