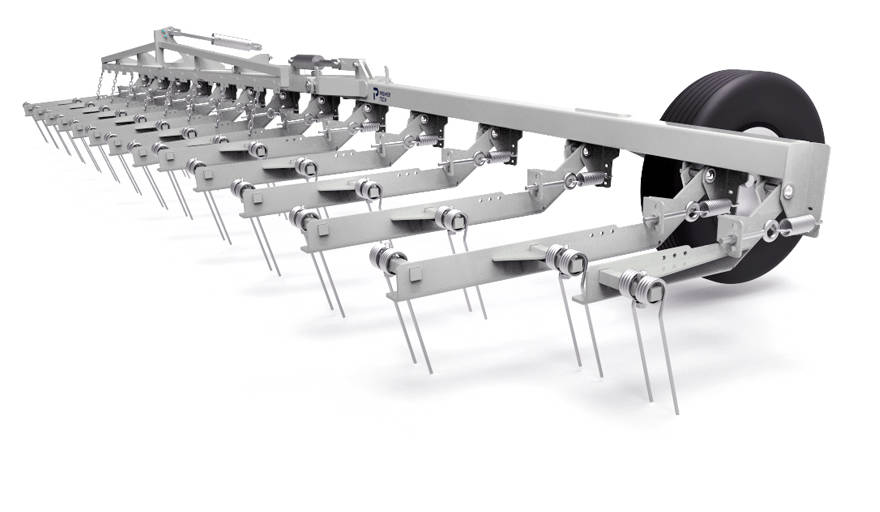 Harrows are designed to be towed by a tractor for bog surface preparation. They are mainly designed to loosen the top surface of the bog, thus accelerating the drying process. Harrows are offered in many types:
The RH-P148 Rotary Point Harrow is designed to break peat into chunks, thus minimizing the fine dusty particles caused by conventional harrowing. It consists of six rotating cylinders with twisted blade-type teeth.

The RH-R148 Rotary Disk Harrow is designed to form and shred the peat moss into chunks. It consists of eight rollers with welded disks.

The RH-T148 Tooth Harrow is designed to prepare the ground for finer and more specific harrowing. It consists of two rows of curved teeth.

The RH-C148 Combined Harrow has two kinds of teeth to perform two harrowing steps into one. A first row of spring-type teeth loosens the soil, while a second row of spoon-type teeth turns the soil and makes furrows to accelerate the drying process.

The RH-S148 Spoon Harrow is designed to turn over the top layer of peat moss and make small furrows after harvesting to speed up the drying process. It consists of spoon- or hockey-like teeth.
Features
May be used every day or after each harvest (especially for horticultural peat)
---
Speeds up the drying process
---
Produces high-quality fibre
---
Retractable sides for easier maneuvering
---
Very little maintenance required
---
Heavy-duty
---
High flotation
This equipment is adapted for