KOCKUMS KTV Series
Container Unloading Systems
An efficient and simple method to deliver bulk materials to remote locations. Over the last 20 years, the use of lined containers has grown as a method of transporting bulk powders as it offers considerable benefits over some of the other options:
Conventional bulk road tankers are perfect for shorter distances; however, the empty return cost can make them unviable over longer distances, or when overseas. 
Unloading material from bulk bags (delivered in containers) can be a slow, dusty, and labour-intensive exercise that creates undesirable waste.
When it comes to handling materials in shipping containers, there are two fundamental concepts. Either the use of dedicated purpose-built containers, or utilising standard ISO freight containers. In both cases, tipping the container is necessary, but flow may only be guaranteed if the powder is fluidised by mechanical or, more preferably, by aeration techniques built into the container liners.
The KTV75 "Suck and Blow" conveying system is a simple yet robust unit and conveys the product from the bulkhead on the container to the destination silo. The container is tipped, the liner fluidised and the conveyor starts transferring material utilising its repeated vacuum assisted filling and positive pressure blowing cycle. Common materials handled are flour, starch, sugar, magnesium oxide, lime, fly ash, cement, flocculant, and others.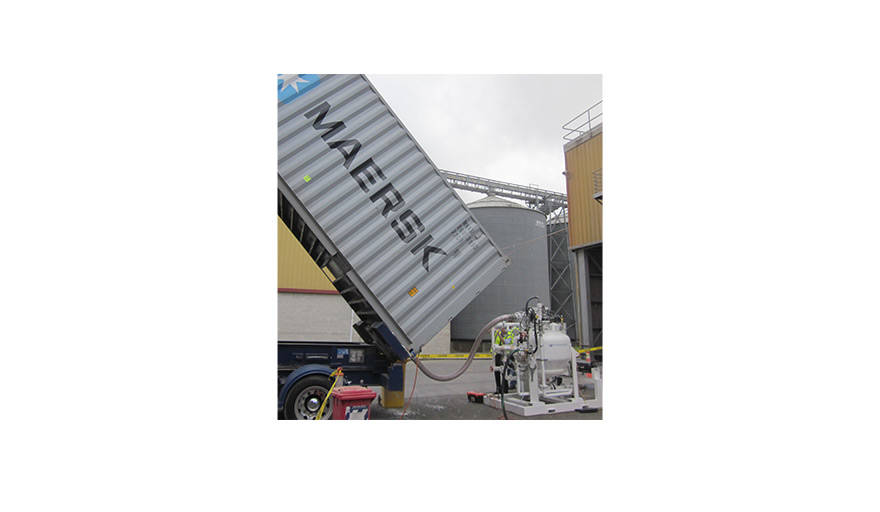 Features
Performance
High capacity emptying of containers at 15 – 30 tonnes/hr.
Cost efficiency
Fully contained dust free operation.
Usability
Ease of use connections to quickly attach to the container and silo, then start conveying.