CHRONOS APH-5360

Automatic palletizer machine
Available in
Canada & USA, Latin America and Oceania
The APH-5360 is Premier Tech's most popular and renowned high-level palletizer. Formerly known as the vonGAL SPLX MKII, its success relies on over half a century of market expertise and continuous improvements.
Its proven robust design, long-lasting lifecycle, and superior stacking abilities make it the favored choice among our customers.
With speeds that can go up to 50 units per minute, it handles many products. These range from simple cases and boxes to hard-to-handle packages, including kraft-wrapped bundles.
Speed: up to 50 units per minute
Applications: cases, boxes, crates, pails, totes, and bundles
Everything you want in a palletizer
With over 65 years in the market and thousands of units in use, the APH-5360 has continuously evolved to answer today's palletizing requirements:
Optimal dimensions:

With an infeed of only eight feet high, the palletizer is compact enough to fit in areas with tight clearances. Yet, it still delivers a full six-foot-high pallet load with the option to create even higher loads if required.
Gentle product handling: Components such as the case metering belt are powered by variable frequency drives (VFD) motors.

Higher automation:

A fully automatic pallet dispenser minimizes human intervention while increasing throughputs.
Secure loads: Two different sheet dispensers and an integrated stretch wrapper are available to provide the most stable loads, ready to be stored or shipped.
Safely increases productivity
Premier Tech's automatic palletizing solution eliminates the need for strenuous and repetitive manual labor, all while increasing reliability, consistency, and dependability.
The machine comes with Category 3 and Performance Level D safety components. These include light curtains, handrails, interlocking doors, and automatic locking pins on the elevator.
Easy to operate to maximize uptime
Technicians can easily edit preprogrammed recipes or add new patterns with a few taps on the HMI touchscreen. Pictures of the palletizing machine are also displayed to help users of all skill levels to identify faults and alarms or troubleshoot the equipment.
The case palletizer is also capable of handling simple to complex patterns and leaving gaps in between products when needed.
Quick changeover of palletizing patterns through stored recipes
No programming skills required to operate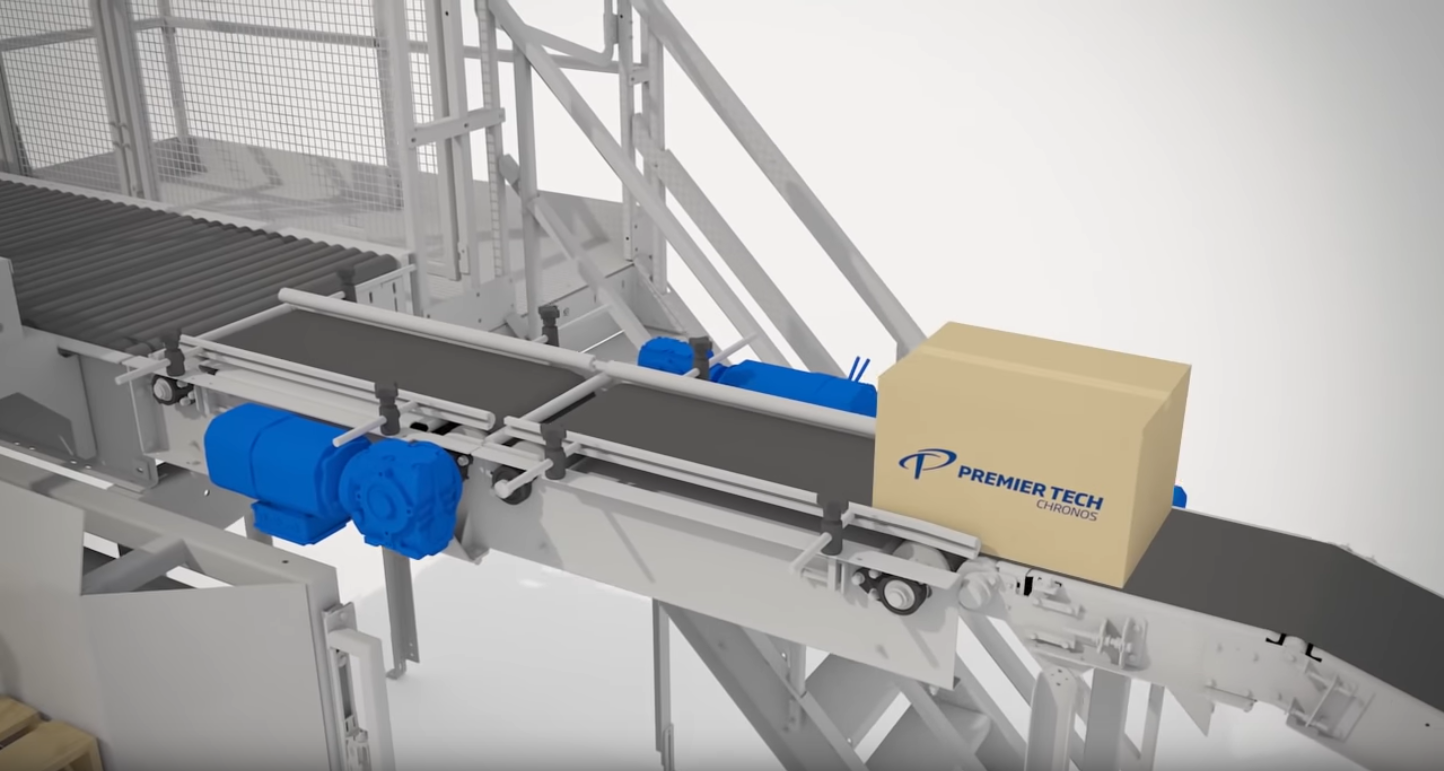 The operator selects the SKU or pattern on the HMI.  

The pallet is automatically dispensed to the stacking position on the hoist. A sheet can be applied if required. 

Cases are brought to the machine by a high-level case conveyor. 

A pacing conveyor separates the cases, and a turning device orients them according to the selected pattern. 

This process is repeated until cases form a row that is gently pushed onto the slide plates.  

An optional push-over device can be added to create two rows which increases productions rates.  

Compression bars center and stabilize the products when the layer is completed. 

Meanwhile, the elevator raises the pallet, and the bi-parting slide plates open, depositing cases on top of the load.  

The hoist is then lowered, and the plates close. The forming process continues and is repeated until the pallet load is complete.  

Once it has the predetermined number of layers, the load exits the hoist area. The area is safeguarded by light curtains to prevent entry into the machine.  
Additional options
The APH-5360 can be equipped with various options to fit your palletizing requirements.
Multiple sheet dispensers may be added
Polar Package using unique design and components rated for -20 ºF environment
Wash-down parts for easy cleaning
Integrated pallet stretch wrapper to stabilize loads
A lift-up rake or push-over device can be added to reach higher speeds
Additional pallet dispensers to run different products on different pallets
Ability to increase the height of the machine to build taller loads
Partnering in your success
Premier Tech offers unbeatable services and support throughout the lifecycle of your equipment.
Experts in packaging since 1989
Experts in packaging since 1989
Effective engineering capabilities
Effective engineering capabilities
Need help finding the right palletizer?
Call us
We will be happy to answer
your questions
Sales
Parts & technical support
Get more information
Tell us about your project, and we will reply with solution recommendations