CHRONOS APR-1150
Hybrid robotic palletizer equipment
Available in
Canada & USA and Latin America
The automated palletizer APR-1150 combines two performant technologies to create high-quality pallet loads: the speed and reliability of our conventional machines with the flexibility of our robotic equipment.
This low-maintenance palletizer is specifically engineered for powdery, granular, or bagged products requiring overlapping, squaring, or compressing.
It is ideal for increasing production quality, capacity, and workspace safety.
Speed: up to 27 units per minute*
Applications: bags and bundles
Price: $$$$$
*With the high-speed option. The standard model reaches up to 25 units per minute.
Versatile palletizer for optimal pallet loads
The robotic technology allows the machine to position each unit individually, overlapping them as needed. The conventional palletizer modules square and flatten layers to prevent bag overhang, tears, or damage during shipping.
Our mechanical grippers can be manually or automatically adjusted to accommodate bags and bundles of varying dimensions.
Adjustable finger gripper that can handle open-mouth, valve, pillow, gusseted and gusseted flat bottom bags of various sizes
Layer squaring and pressing
Bag overlapping
Built for durable performance
The electric modules enable smooth and quiet operation, compliant with the Occupation Health and Safety (OSHA) noise regulation standards.
The APR-1150 palletizer employs a robotic arm to pick and place individual products, drastically decreasing the number of mechanical components.  This translates to reduced maintenance efforts and increased reliability.
4000 lb (2000 kg) capacity electric pallet elevator with counterweight for quiet operation
Rugged steel construction to ensure durability for many years
Compact design allows shipping in few modules as well as quick installation
Automatic locking pins on the elevator for safe maintenance
Automatic pallet dispenser and pusher
Easy to use, easy to run
Operators can easily control the machine via the intuitive human-machine interface. Pattern edition can be carried out quickly through only one point in the HMI, without the complexity of robotic programming.
Conveniently located on the second floor, the HMI offers a global view of the palletizing process to adjust recipes during production.
Moreover, Premier Tech's palletizing solutions meet all industry safety standards to provide a safe working environment for your employees.
Human-Machine Interface:

Intuitive touchscreen with images for easy operations, fault detection, and troubleshooting
User-friendly layer and pallet building software with pre-stored recipes for quick changeovers
Available in English, French, and Spanish

System compliant with Category 3, Performance Level D, ANSI/RIA, 15,06, CSA Z-434-03, and ANSI B155, 1-2006 safety standards
Get detailed specifications about this equipment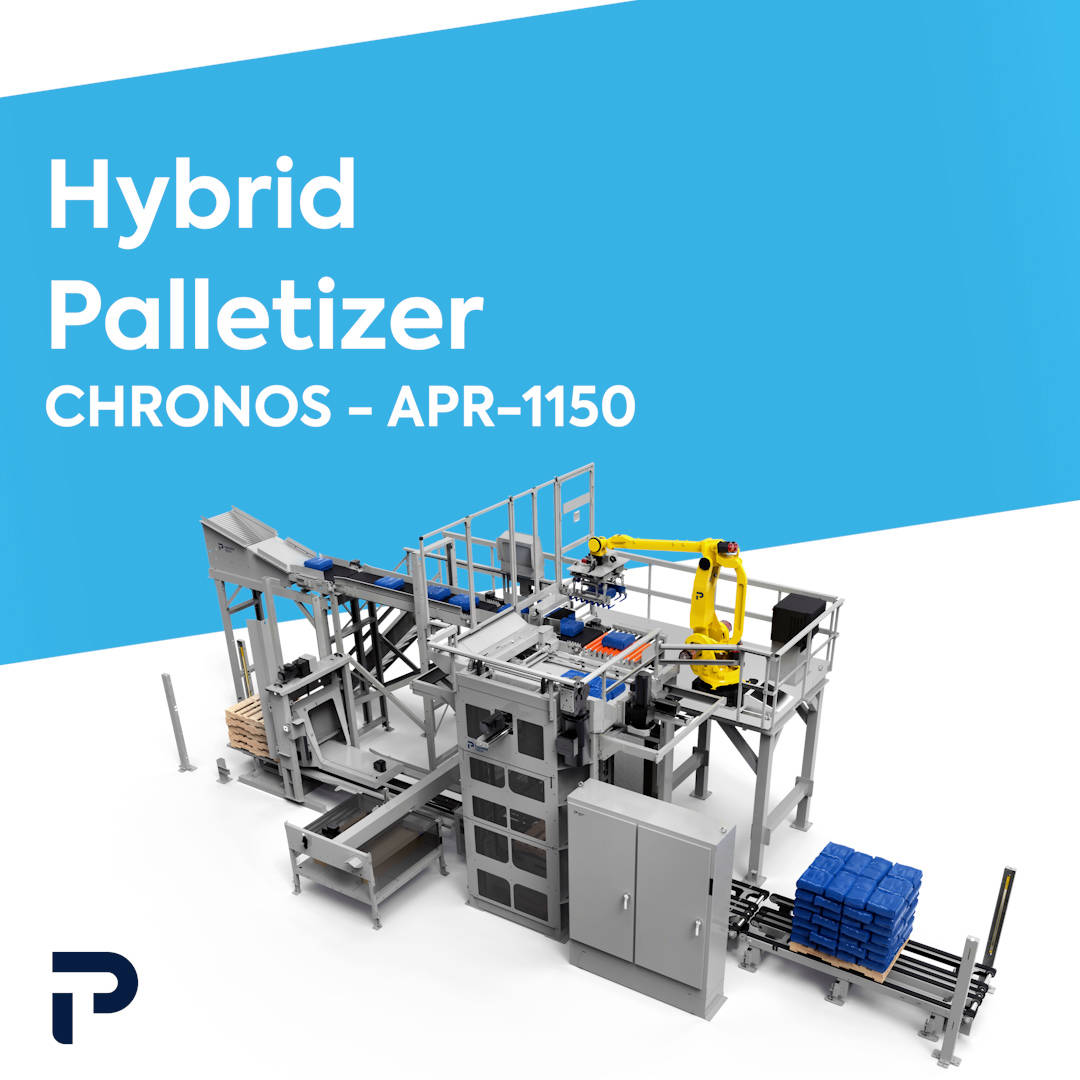 The operator selects a SKU or pattern on the HMI.

A pallet is automatically dispensed to the stacking position on the elevator. A sheet can be applied if required.

Bags enter the top of the machine via a high-level infeed conveyor and are released one by one.

The robot's end-effector takes a unit, orients, and places it accurately on the stripping plates.

The process is repeated until a complete layer is formed.

The elevator raises the pallet while the four alignment bars maintain the layer in place. The stripping plates open, and units are deposited on top of the load.

The elevator is then lowered, and the plates close. If required, the layer can be compressed against the plates to level and stabilize it even further.

When the pallet load is complete, the elevator lowers, allowing it to exit the cell.
Additional options
The APR-1150 hybrid palletizer can be equipped with various options to fit your end-of-line requirements:
Innovative bag lifting device to increase production rates up to 27 units per minute
Bag preparation systems to level or flatten bags
Leak, weight, and metal detection systems coupled with a rejection conveyor to remove non-compliant bags
Automatic product changeovers
Servomotor or pneumatic-powered gripper for automatic bag width adjustment
Quick-connect power and control cabling for faster installation in your facility
Integration with concurrent stretch wrapping machines and third-party suppliers (labelers, printers, etc.)
Automatic slip/top sheet dispenser
Exit conveyor
Partnering in your success
Premier Tech offers unbeatable services and support throughout the lifecycle of your equipment.
Experts in packaging since 1989
Experts in packaging since 1989
Effective engineering capabilities
Effective engineering capabilities
Need help finding the right palletizer?