A Bagging Innovation for the Cement Mixes/Concrete Industry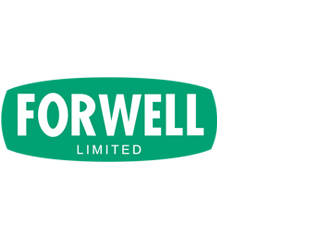 When you are in the concrete industry and your products are intended for the retail market, it is not easy to meet the expectations of distributors and end users. Why? Simply because bags are covered by concrete dust: inevitably, the wholesaler's displays and the customers' car trunks become dusty. In response to its customers' demands, Forwell Materials Inc./Quikrete of Ontario, a leading North American producer of concrete mixes, was looking for a way to provide its products in cleaner, stronger and nicer-looking plastic bags with gussetted bottoms.
"Our goal was to revolutionize our approach to packaging concrete mix materials through efficiency, a consumer marketing strategy and an innovative packaging method that we would be the first to use," says Lisa Forwell, President of Forwell Materials. "We wanted to package our products in a cleaner way for the health and safety of our employees and customers, more efficiently, and more cost effectively." But how could a dusty product become synonymous with cleanliness, quality and a pleasing look so that Forwell Materials could maintain its distribution partnerships and its market share?
Reaching efficiency in a dusty environment
Forwell Materials was looking for the appropriate system to replace its two valve packers, which reached production rates of 18 BPM on 66-lb bags averaging 3 lb of excess product. The company also wanted to move away from paper bags, which would often get torn and become extremely dusty. This project presented several technical challenges with regard to the dusty environment, the type of product and the bag material. Sealing plastic bags in such a dusty environment required some reengineering work from the equipment supplier. It was obvious that Forwell Materials needed to find an efficient bagging system that would raise production rates and minimize excess product in the bags.
Innovating in the cement mixes/concrete industry
The use of polyethylene bags for concrete products is totally new to the industry. In fact, it is not easy to bag a dusty product at high temperatures (140–170 °C) with heat sealable polyethylene bags. The reason is that poly bags must be strong enough to resist high product temperatures but at the same time not be too thick, which would hinder the sealing process. After a long research period involving many suppliers, Forwell Materials found a bagger that met all of its needs: the Premier Tech's Industrial Equipment Group (IEG) FFS-200 Series Horizontal Form, Fill and Seal Bagger. This automatic system makes its own bags from rolls of pre-printed, center-folded polyethylene film (U-film).
Respecting the delivery date
The original version of the FFS-200 bagger had to be modified and adapted to the concrete mix application for this particular customer. To carry out this project, a team of engineers conducted various tests with the product to ensure the efficiency of the system. One important factor in the overall success of the project was the respect of the delivery date at the customer site. To achieve this, the engineering team doubled all efforts to meet the tight pre-established schedule for equipment modification, testing and manufacturing, while making sure that the installation would not affect production at the Forwell Materials plant. Since IEG's engineering team was very familiar with the FFS-200 technology, it took only two weeks to complete the installation and commissioning of the system and exceed the customer's expectations. Although this was a totally new market and application for the FFS-200 system, only a few minor adjustments were needed before this experience could be called a complete success. Both Forwell Materials and IEG are working as partners to revolutionize the industry as a whole. "IEG's technical support has been fantastic throughout the design, installation and implementation process," says Lisa Forwell. "All little glitches were ironed out."
Getting a new system, new bags and a quick investment payback
In this specific case, the new equipment allowed the producer to increase its production rate to 25 BPM using only one bagger. In addition, the IEG duplex scale that was installed above the bagger now achieves a precision of ±1 oz. (27 g) of product per bag, which is a tremendous improvement in weight consistency. This accuracy improvement alone has allowed Forwell Materials to gain up to two complete pallets of filled bags at the end of each production day. Also, the IEG FFS-200 bagger operates with a 40-inch roll capacity allowing for many hours of continuous operation. Combined with increased filling accuracy, higher production rates and reduced bag-material costs, the new system provides tremendous savings which contribute to a quicker investment payback.
Fulfilling its goals
Family-owned business Forwell Materials has now fulfilled all of its goals: preserving its distribution partnerships, satisfying end users, increasing its market share with cleaner, stronger, and nicer-looking plastic bags with gusseted bottoms, and becoming the first concrete mix supplier in North America to use this new packaging method. The company has finally found the best available technology on the North American continent to answer its very specific needs as well as the growing demands from end users.
Looking for one true integrator as opposed to multiple suppliers
"Complete integration," "turnkey projects" and "one single contact" are terms that have become of great importance for producers in all industries. Companies that get involved in bagging operations and focus on maximizing throughput, which minimizes production costs per unit, should consider an equipment supplier that can provide not only the bagger, but also the dosing equipment (feeder/scale) and the conveying, palletizing and stretch wrapping systems. Only a handful of suppliers do the complete manufacturing and are able to integrate entire bagging lines from A to Z. IEG is one of them. With installations worldwide, IEG can offer imperial and metric designs, and provide technical support locally.