Bagger provides flour milling solution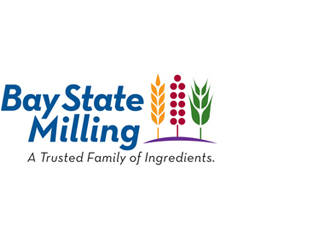 Flour power
A milling company increases their production rate 85% and reduces labor by installing flexible screw conveyors, net-weigh scales and dual-spout open-mouth baggers.
Massachusetts-based Bay State Milling Company had an enviable problem: its Clifton, New Jersey, plant couldn't satisfy customer demand for flour. "We needed to keep up with demands from new customers," explains Plant Manager Mike Walsh. "We needed a packer that was high speed, with quick changeover capabilities, and was versatile enough to pack 100-, 50- and 25-pound-bags on the same machine." Not only that, but the white, whole-wheat and rye flour requested by Bay State Milling's new customers had to be kept scrupulously free of airborne contamination and moisture. That was critically important in order to comply with stringent hygiene regulations for food-grade applications, as well as to avoid the risk of dust explosion that increases as flour absorbs moisture. And, as if those requirements weren't demanding enough, floor space at the plant was limited.
The solution's in the bag
Fortunately, a small-footprint bagging solution that met all of Bay State Milling's requirements was available from Québec-based Premier Tech. The supplier's model PTK-2700 bagger that was installed is a high-speed open-mouth net-weight bagging system with dual-spouts, which allows Bay State Milling to fill twice as many bags per unit time. Flour is conveyed to the bagger by two model DSR flexible screw conveyors that deliver the material to a mass-flow custom feed hopper designed by Premier Tech. The hopper is installed above two model E55 net-weigh scales suspended above the bagger, with each scale feeding a dedicated spout on the bagger.
Sensible choices
Flexible screw conveying was the method of choice to handle flour for several reasons. First, a flexible screw conveyor mechanically transports material inside an enclosed tube. This keeps flour dust inside the tube, which reduces the risk of dust explosion, helps to keep the site clean and protects employees from both explosions and dust inhalation. Second, because air is not used as the conveying medium in this process, moisture and airborne contamination are kept out of the flour. That's necessary not only for hygiene but because flour becomes hard to handle if it mixes with air.
"Flour is fluidizable, so the goal is to keep air out as much as possible or else putting it inside the bag becomes a nightmare," cautions Premier Tech's Jonathan Levesque, who served as project manager. Third, the plant's lack of space provided yet another compelling reason to use a flexible screw conveyor, thanks to this type of conveyor's relatively small footprint and its ability to be installed in a wide variety of configurations. Finally, the fact that this type of conveyor delivers a constant flow of material was a critical factor in its favor.
Precise filling
That's because the flow of material into the scales "must be as constant as possible to get good weighing precision," emphasizes Mr. Levesque. "The screw offers this constant flow." The feeder can do this because "it contains two screws, one big and one small," he continues. "The feeding is done in two steps, which we call bulk and dribble. At first [when feeding the hopper], we turn both screws full speed for the bulk phase. Then, when the scale is close to the set target weight, we turn off the big screw and let just the small screw turn slowly to do the dribble phase" until the target weight is reached. Target weight accuracy—weights vary by less than ± 3 ounces (85 grams) at 2 sigma—was an important factor in Bay State Milling's choice of the E55. Performance feedback, statistical data and multiple weigh programs that are part of the scale's weigh controller permit Bay State Milling to fine-tune production and conduct long-range planning.
Bagging
After the feed hopper sends flour to the scales suspended above the bagger, the scales, in turn, send flour to the bagger's filling spouts through a Premier Tech-designed discharge hopper. The discharge hopper delivers flour to two bags while simultaneously containing dust. Dust is also controlled by the bag-detection system on the filling spouts, since automatic bag rejection prevents flour from being discharged unless a bag is on the spout. Rejected bags are automatically dropped and new bags placed on the filling spouts. When it's time to fill a different size bag, changeover is controlled using a touch-screen operator interface with graphic alarms that operators use to monitor and troubleshoot the system.
Full-bag conditioning
As bags exit the bag closer, the system automatically positions them so that the front of the bag faces upward. This allows Bay State Milling customers to easily read bag contents upon delivery, for enhanced customer service. After the line exits the closer, it turns 90 degrees to send bags through a bag flattener that Premier Tech designed, which presses bags into easily stackable rectangles. Bags then pass through a Premier Tech-designed check-weigher station.
Custom­ization and convenience
Customization included "creating a layout that would be very convenient for the operators," notes Project Manager Levesque. "As the conveyor line exits the bagger it turns and runs around the operator." Since the check-weigher automatically rejects any off-weight or leaking bags and places them close to the operator, this customized layout minimizes operator effort, reducing the risk of employee injury.
Premier Tech also customized support structures to support the E55 scale from the second floor, which minimized the engineering and field construction required of Bay State Milling.
After-sales support was customized too: "We changed the size of some of our bags after the installation was complete and Premier Tech had to reprogram and adjust the machine to fit our needs," says Plant Manager Walsh.
Small footprint, big step forward
To help Bay State Milling hit the ground running as soon as the new equipment was installed, Premier Tech and Bay State Milling jointly decided to "bring operators and some other folks to Premier Tech to show them the assembled machine and do one to two days of training on it before shipping. That way, they got pretty familiar with it," recalls Project Manager Levesque.
"The PTK-2700 has increased our production rates by 85% of what we were previously capable of," Plant Manager Walsh reports. The plant's bagging rate for "100-pound bags has gone from 8 bpm to 14 bpm, 50-pound bags have gone from 10 bpm to 19 bpm and 25-pound bags, from 12 bpm to 20 bpm." And while it's too soon for Bay State Milling to have realized savings on workman's compensation costs for employee time lost to injury, Mr. Walsh notes that, "We reduced our packing labor by 60% with the installation." Cleaning costs have been reduced too, he says. "The PTK-2700 is a very clean machine to operate and has reduced our sanitation efforts. We have realized a savings by installing the PTK-2700, with a 2.5-year payback on the whole project."