New robotic bagger opens up big new productivity opportunities for soybean exporter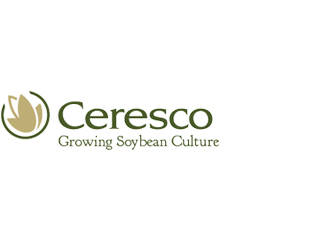 The humble soybean has generally been recognized for the past 4,000 years as a prime staple food and medicinal ingredient in Asia, but it has only recently been widely embraced by the rest of the world as a tasty legume packing incredibly nutritional value for human consumption. Broadly used today in its green immature pod form of edamame, salty packages of soy sauce, soft and jiggly tofu, fermented protein-rich natto, silkysweet soy beverages, tasty miso pastes or merely as the dry crunchy soy bean, its versatility is arguably second to none in modern food production. While the soybean was first introduced to U.S. farmers as far back as 1765, Canada did not see the cultivation of soy on its soil until 1855. But despite its relative late entry to the game, Canada has become a major player in growing food-grade soybeans for the Asian market, with the privatelyowned S.G Ceresco Inc. helping to lead the way.
With its head-office situated in Saint-Urbain- Premier district along the south shore of Montreal, Ceresco employs more than 70 people to handle, store and package vast quantities of soybean shipped in bulk from approximately 450 soybean producers across Quebec, collectively harvesting thousands of acres of purple f lowering fields.
"We are not specifically soybean farmers, and we don't process it," explains director of operations Manuel Gendron. "After we receive the harvested soybeans, we screen the product—what we call conditioning—place it in storage, and then bag and distribute it to our customers who will further process it." Founded by the Gripon family back in 1981 with a purchase of a 100-hectare farm, the company originally used the farm's existing grain-cleaning equipment to meet the needs of a few local producers involved in oats, barley and soy cultivation.
By 1988, the Semences Gripon began selling its cleaned soybeans to European customers and by 1990 shipping to Asia with an initial shipment of 50 containers, totalling over 1,000 tons of soybeans to new customers in Hong Kong, Malaysia and Singapore.
Early Growth
"By 1993 the company made some major investments with the construction of storage silos and warehouses and the purchase of a second soybean conditioning line," recalls Gendron. "It then acquired the commercial rights of the Colibri variety of natto soybeans and by 1996 had taken the lead in exports to Japan of soybean intended for human consumption."
After changing its name to Ceresco in 2001, paying tribute to the mythological Roman goddess of agriculture, harvest and fertility, the company experienced incredible growth over the next decade, establishing its own research center in Saint-Urbain- Premier over 500 hectacres of prime fertile farmland in the Montérégie region of the province of Quebec. Gendron says that 100 per cent of Ceresco soybeans are non-GMO (genetically modified organism), with 40 per cent being the so-called Identity Preserved (IP) varieties and the rest being conventional or IP varieties from other seed companies.
All Ceresco soybeans are produced primarily for human consumption markets in Asia, Europe and North America, he adds. "About 60 per cent of our volume is sold to Japan— we have a sales office in Yokohama—with an additional 20 per cent for the rest of Asia.
 "Europe takes 10 per cent, with the remaining 10 per cent distributed to customers in the U.S. and Canada," Gendron told Canadian Packaging magazine during a recent visit to its large 25,000-squarefoot facility boasting four f loors of plant screening and 30,000 metric tons of silo storage capacity.
"We are presently developing our market reach in China and Europe—two areas we feel hold great potential for us," he adds. By establishing the highest-quality standards in the industry, Ceresco has acquired an excellent reputation worldwide that has helped it attract and retain high quality processing customers, according to Gendron. Thanks to the purity and wide variety of its seeds, stringent quality control measures, meticulous soybean screening and prompt customer service, Ceresco has become synonymous with premiumquality soybeans—today trading over 15 varieties of soybean, each with differing levels of characteristics such as proteins, oils, size, etc.
Eat The Rich
"Soy is one of the richest natural foods on the planet," begins Gendron. "It contains a large quantity of proteins, carbohydrates, lipids, vitamins A and B, potassium, calcium, magnesium, zinc and iron. "As well, regular consumption of soy can reduce hot f lashes, menopausal disorders, the development of osteoporosis and memory problems, along with providing measurable control of diabetes, a reduction of cardiovascular disease, and some cancers, such as colorectal, prostate and breast," he continues. With such amazing health benefits traced to the soybean, consumption around the world has soared.
While Ceresco does produce soy for its own processing, approximately 99 per cent of the product comes from other farms in Quebec, with some also imported from the U.S.
"Our screening facility is open all-year-long, 24-hours-a-day, which is why we have the large silo storage facilities," explains Gendron. "We only stop operations two weeks per year in order to do major preventative maintenance on our equipment, although minor preventative maintenance is performed regularily throughout the year," he adds. Roughly 15 per cent of Ceresco's product is packed in 30-kilogram and or 25-kg food-grade paper bags; five per cent is packed in one metric ton tote bags; 80 per cent is packed in bulk 20-foot and 40-foot containers, according to Gendron. "Paper has become our material of choice for the smaller bags, as our main customers in Japan are unable to dispose or recycle polybags unless they pay a fee," mentions Gendron, adding that Gelpac Inc. of Marieville, Que. has for many years performed as an admirable supplier of the hardy three and four layer paper bags Ceresco uses depending on the customer. Helping Ceresco out is a new fully automated bagging line purchased through the Rivière-du- Loup, Que.-based Premier Tech, an international leader in the development of high-tech bag packing equipment. "With 15 per cent of the product being packaged in bags, we have been using an automated scale and palletizer since 2000, but with the on-going increase in volume sales and our expected increase in volume sales we had to purchase a new scale, bagger, sewer, tag and palletizing equipment that was more efficient," Gendron relates.
"We looked around, but the choice almost right from the beginning was surprisingly simple—we purchased a full line from Premier Tech because they have the best equipment." Installed in June of 2011, the Premier Tech line has enabled Ceresco to achieve much faster throughput rates, Gendron confides. Whereas the older line was only able to produce about six to seven bags per minute, the new line basically doubled the output while also providing a better quality final package, as well as saving some bucks along the way. The PTH-920 open-mouth bagger provides a unique solution for users like Ceresco, according to Premier Tech. Designed specifically for free-f lowing materials like soybeans, it works equally well with laminated polywoven, polyethylene and paper bags. While the PTH-920 itself is a semi-automatic machine, Ceresco fully automated it with Premier Tech's ANDY, a patent-pending robotic transfer unit that helps increase the overall speed of the production line up to 20 bags per minute, depending on the bag size.
"We are very proud of our ANDY," reveals Gendron. "We are also one of the first companies in the world to utilize this technology, which has certainly made our production line faster, more accurate, and more reliable with minimum maintenance required.
"We can now do up to 16 bags per minute, which adds flexibility to our loading." He adds: "We have also improved the quality of our bagging, as this machine has helped improve the efficiency of the sewer that seals the bag."
Making Sense
Noting that the bagger comes with a sensor that detects bag and sewing imperfections, Gendron says the bagger is very easy for the employees to work with—making troubleshooting both easier and rarer, as external adjustments for different widths and lengths can be easily performed with minimal downtime.
"Along with the fact the bagger has a capacity to hold up to 250 bags at a time, I like that it has a bag detection system on the spout which helps avoid spillage of soybeans onto the floor," says Gendron. "It's little things like that which help make this a great machine for us."
Gendron says Ceresco selected Premier Tech after going to the Pack Expo International 2010 trade show in Chicago to compare similar equipment. "After we talked with our suppliers, they all mentioned Premier Tech," says Gendron. "And after talking with Premier Tech, my impression was they were the only ones who asked us about our specific needs. That was very important to us." From the very beginning of the purchase process, Ceresco's project, maintenance and production teams interacted with Premier Tech's technical staff to ensure its needs were fully understood, and that the limitations of the equipment could be explained to them long before the issue of price was raised. "The Premier Tech representative was also technical in his facts, which I appreciate very much," notes Gendron. While quality and price were also a factor in the decision to purchase from Premier Tech, Gendron says going local also played a large role in the decision.
"Because we are in Quebec, we wanted an automated screen in the French language—something that was an issue with other suppliers," explains Gendron, adding Ceresco didn't want a custommanufactured line that would come with custommanufactured problems to be ironed out.
"When you invest money in equipment, it has to be reliable."
After soybean conditioning, the product is carefully measured out in 30-kg increments on a Premier Tech E-55 net weigh scale, the PTH-920 bagger fills a bag and a Fanuc Robotics LR Mate 200iC robotic system sold and integrated by Premier Tech, takes the bag from the bagger and places it onto a conveyance system where a Packing & Palletizing Company dualtagger adds up to two tags per bag detailing customer name, crop and lot data, expiration date and the soybean variety, after which it is sealed via a Fischbein LLC 400 sewing machine. "The secret to having a good automated sewing line," offers Gendron, "is to always keep the gusset, the side of the mouth of the bag, closed. That's something the PTH-920 bagger does working in perfect harmony with the Fanuc robotic system to produce such great results for us." After being sewn shut, the bags pass a Marsh PatrionPlus large character coder, manufactured by Videojet Technologies Inc., that applies lot code data to the sealed bags.
Afterward, an Eriez model E-Z Tec metal detection system, purchased in 2010 and adapted to the new Premier Tech line by Ceresco engineers, is used to scan for foreign materials before it is stacked on an AP-425 high-level palletizer and readied for transport by a WCA-Smart turntable stretch wrapper, manufactured by Wulftec International of Ayer's Cliff, Que., a division of the M.J. Maillis Group. Gendron says that the soybean market is a tricky place to make a buck, owing to very thin margins and nature of the niche market. "In order to remain profitable, Ceresco is always concentrating on the details," he says. "Whether it's saving a few dollars on the film for the bags or gaining faster production time to enable us to take on more customers or creating a better soybean, Ceresco is always looking at the details.
"We are not in a high-volume, lowest-price business," relates Gendron. "So we try to be different by offering better varieties, more packaging customized for each customer— basically providing higher-quality product overall. "We do what we have to do to be reliable, flexible and adaptable," he sums up, "which is why we need our equipment to perform the same way."