Whether you are in the food and beverage industry or the soil and mulch sector, choosing a strong pallet configuration is a part of your operations that you cannot afford to overlook.
Failure to optimize your pallets can lead to damaged products, increased shipping costs, and decreased efficiency.
There are industry-specific rules that should be considered (and you may want to take a moment to learn about the different kinds of palletizers and the pallets they can create). Still, there are also four golden rules that every manufacturer should follow:
By following these rules, you can ensure that your products are delivered safely and efficiently, while also increasing your bottom line.
The 4 Golden Rules of Pallet Optimization
Choose the Right Kind of Packaging
Be conscious of choosing the right kind of packaging for your product. Your product must fill most of the package dimensions so that it's condensed and stable in its container, and therefore on your pallets.
Select a Resistant Packaging Material

Also consider that your packaging material w

ill affect how you build your pallet. Whether it's cases or bags, make sure the packaging material you choose is sufficiently resistant.
Keep in mind that your pallet will be subject to different conditions and will be stacked with other pallets, and so individual packages within the pallet will also undergo these stresses.
Pallets come in a variety of shapes, materials, and standard sizes. Some industries or clients might prefer certain models or require more durable and hygienic plastic pallets. Here are some of the most common pallet types:
Types of Pallets and Their Common Use
Pallet Type
Description
Common Use
Block

Four points of entry so that forklifts can use them on all sides 
Can be made of wood, plastic, or plywood

Good for a variety of purposes including heavy loads, international shipping, food and pharmaceuticals

Stringer or GMA

May be designed as either two-way or four-way pallets

Ideal for consumer goods, lightweight items, dry goods, construction materials

Solid Deck

Has a full square of plastic or wood on top instead of slats, sometimes with small opening for drainage

Often used for products that don't need aeration or drainage, but required added protection such as liquid containers like drums or barrels, or food products
A pallet will sustain several different types of stresses, from the time it's stored in your plant to its journey to a client. You must prepare your packaging and your pallet to withstand the four most frequent causes of pallet damage: pressure, shock, vibration and environment.
Pressure
Your pallet will be stacked with other pallets. This pressure must be taken into consideration when choosing the type of packaging, the type of pallet, and the stacking pattern to ensure that your product is not crushed.
Shock
Your pallet and its content can suffer knocks and bumps at any time during the shipment process. Don't forget to tighten it with straps, corrugated pads, or a stretch wrapper.
Vibration
From the forklift to the truck, your pallet will endure constant vibration. If you are packing high-density products in cases, you might need some form of isolation to prevent damage. Also, the usage of anti-slip sheets in-between layers can bring more stability to the overall package.
Environment
A loaded pallet will be stored and transported often, and the environmental conditions in which that happens will vary greatly. It might be at the mercy of the elements for a while or transported in a -10°C trailer or a 45 °C humid container.
You can keep your products safe with protection like a stretch wrap, or by placing a top sheet on the top of the pallet.

Identify the Right Stacking Patterns
Think of your pallet as a block. It needs to be compact, solid and perfectly square so it can reach its optimal strength. A condensed pallet with an appropriate stacking pattern will be the most stable, and your product will consequently be far more protected.
An important thing to keep in mind is that your product should either be aligned or staggered on the pallet.
Use our free pallet calculator to determine how many boxes will fit on a pallet and how your load might best be configured.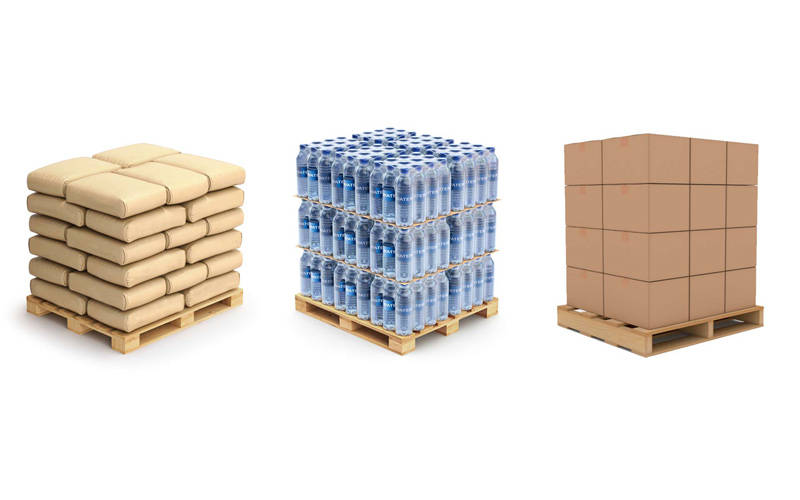 In Conclusion
Finally, the secret of the optimal pallet is simple: it's the sum of the details and attention you invest in your entire packaging line.
If your goal is to protect your goods against uncontrollable variables while optimizing every step, all the efforts you put into strong pallet configuration will pay off until the end of your line and beyond.
Got More Questions?
Over the past several decades, Premier Tech has been helping businesses of all sizes harness the power of effective palletization.
Contact one of our seasoned professionals today to receive a complimentary quote for a modern palletizing solution, and recommendations on how our equipment can help take your business to the next level.