How to Undertake Preventive Maintenance to Your Bag Sewing Machine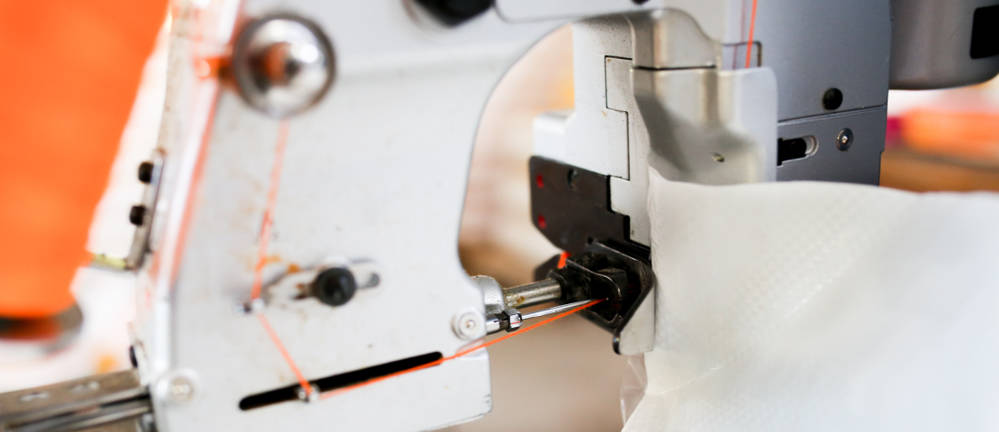 Don't let bag sewing machines become a problem right under your nose.  
Manufacturers often want to use their automatic bagging machines for fast production to deliver products to market and keep up with their competitors. However, manufacturing downtime due to machine failures occurs frequently. 
Have you noticed that your production problems are coming from an unlikely source? Perhaps the final part of the packaging process - your bag sewing machine? 
Premier Tech encourages manufacturers to perform preventive maintenance to their bag sewing machines by themselves to stop problems before they occur. Preventative maintenance ensures that even if problems do arise, they will not be at a crisis level that halts production.
How Does Daily Sewing Machine Monitoring Benefit Your Factory?
Did you know that just a few minutes a day spent monitoring the condition of your sewing machines can save you tremendously? Find out how: 
Time-saving: It reduces downtime due to system failures. The sewing machine head is tiny compared to the other parts, so it should not be the main cause of manufacturing disruption.
Cost-saving: Daily condition monitoring and solving small problems help prevent expenditure on major repairs.
Stress-saving: If the bag sewing machine were human, regular condition monitoring would be like a health check-up to repair and treat the unhealthy parts. Machines with regular maintenance will remain in good working order longer than those only sent for repair when they're in bad condition, saving you a lot of hassle and stress.
Top 5 Bag Sewing Machine Problems To Look Out For
Our experience of installing automatic bagging machines and providing services to customers in various industries has taught us that most sewing machine heads become damaged due to the following:
The bellow assembly being torn, so there are leak holes created when it stretches during sewing, which damages the machine when operating under pressure.
The needle hitting the needle guard and looper.
The take-up lever and thread not being properly positioned.
The presser foot bottom and chaining section being worn out.
The inner part of the oil filter being dirty.
Besides these, there are other causes that employees may not expect, for instance, dust or debris getting stuck inside the timing belt, or the sewing machine oil not being sufficient, which causes the machine to dry out, meaning it has to work twice as hard.
 

Preventive Maintenance: 3 Simple Steps to Take Care of Your Sewing Machine
Isn't it better to spend a little time each day condition monitoring and maintaining your bag sewing machines while also checking other parts of your bagging scales? It's simple to do. Follow the three steps below to reduce repairs, the need for replacements, and manufacturing disruption.
1. Blow the dust off
During the bag closing process, material particles or dust may accumulate on parts of the machine. Despite the tiny size of these particles, a buildup of dust can absorb moisture and reduce the efficiency and sewing speed. For that reason, we recommend using an air pistol at a maximum pressure of 50 PSI or 3 bar to blow away the dust at the end of every shift, particularly on these parts:
Lip seal of the needle bar
Bellow Looper 
Oil Seal
 

2. Regularly check the oil level and pressure
Each time a bag sewing machine has sewn 30-40 bags, employees should check the oil level according to the instruction manual by looking at the indication bar through the check window on the side of the machine. The oil pressure should be at 0.3-1 bar (4-15 PSI).
3. Securely tighten the screws
It's important to tighten the screws on parts of the machine at least every two weeks. If the screws are loose, the sewing machine cannot run smoothly, increasing the risk of injury and damage from loose parts flying off.
If your bag sewing machine is damaged beyond repair despite preventive maintenance, do not worry. Trust the expert team at Premier Tech to take care of it. Our team is located in Thailand, so we can repair your sewing machine within a week. We recommend that you purchase extra machines and replacement parts so your operation can still run smoothly while repairs are being carried out.
If you're keen to avoid problems before they arise, consider Premier Tech's Preventive Maintenance Service alongside your daily machine condition monitoring.
Contact our Client Solutions Team to find out more, or drop us an email at: fieldservice_sea@ptsystemsautomation.com
Add us on LINE to stay connected.