Open-mouth bagger with bottom-up filler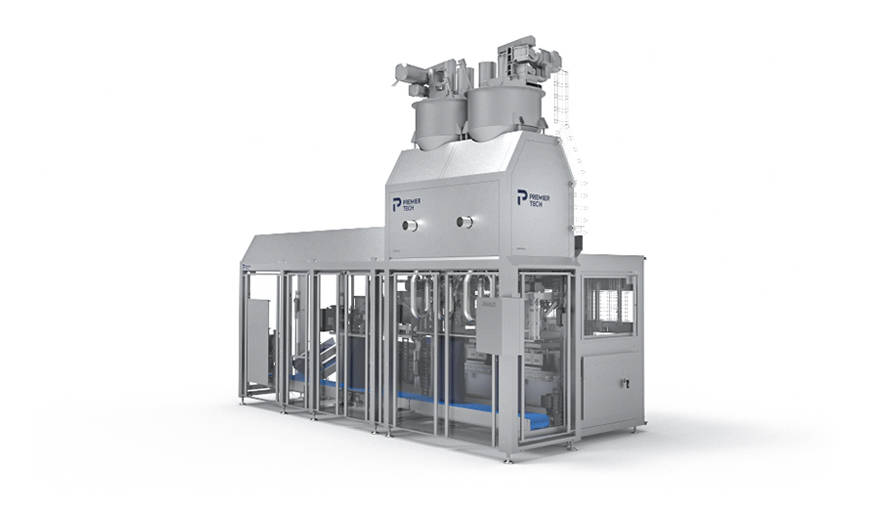 The OML BF SERIES open-mouth bagging systems are specifically designed for the food, chemical and pharmaceutical industries to bag powdery materials, for example milk, whey or lactose powders.  The OML BF bagging system features our patented dust reduced, bottom-up filling technology, which ensures high accuracies during the filling process. After bag placement the filling spout moves down the bag during the filling cycle. A minimum distance between the filling point of the vertical filling screw and the product in the bag is kept to significantly minimise the dust emission and reduce the product aeration. The vertical screw is frequency control driven, allowing all powdery products to be filled hygienically, accurately and quickly.  These bagging systems feature a cost-effective designs including bag transport with open-bag-top transport or bag transport with closed bag-top.
The innovative bottom-up bagging system combined with our modular approach provides you with the opportunity to create a bagging system for your current and future needs.  The OML BF SERIES is available in different bagging speed capacities ranging from 250 up to 900 bags per hour. The cost-effective modular design offers the capability of 1, 2 or 3 fill heads per line. Also single spout version is offered with post dosing for higher accuracy and speed. These bagging machines are equipped with gross weighing systems for precise filling results.
Features
High weighing accuracy (up to +/- 40 g), 30 gram with servo controlled dosing and 20 grams with post dosing
---
Optimised dust control
---
Field proven technology for high system availability
---
Customised system configurations
---
Excellent machine accessibility for cleaning and maintenance
---
Compact, sturdy design
---
User-friendly touch control panel with integrated graphical user interface
---
Stainless steel, hygienically welded product contact parts
---
Large bag magazine for long production runs
Options
Inert gas packing
---
Servo-controlled dosing
---
Standard bag marking systems
---
All common types of bag closing devices
---
Extra positions for empty bag piles
---
Product sampler
---
Product de-aeration
---
Bag turning
---
Closed bag push off
---
Automatic and semi-automatic versions
This equipment is adapted for
Bagging machines
Other categories