CHRONOS APH-5300
Compact palletizing machine
Available in
Canada & USA, Latin America and Oceania
The APH-5300, formerly known as the vonGAL SPLXC, is one of the most compact palletizers in the industry. It is engineered to take up minimal surface area, making it the preferred choice in facilities where floor space is at a premium.
With speeds reaching up to 45 units per minute, it stacks various types of containers with consistent, accurate, and repeatable results.
Speed: up to 45 units per minute
Applications: cases, boxes, crates, pails, totes, and bundles
Price: $$$$$
Great functionalities in a compact design
The APH-5300 uses the same proven technologies as our larger palletizing solutions, such as the APH-5360 (formerly the SPLX MKII). However, it is three feet shorter and eight inches narrower. It includes:
Strong, sturdy, and low-maintenance components.  
Variable frequency drives (VFD) to perform smooth and controlled movements. This technology handles products gently, while reducing the equipment's overall noise level. 
A pallet dispenser that positions pallets automatically onto the hoist to limit human intervention.
A sheet dispenser and an optional integrated stretch wrapper may be added to optimize load security.
Simple and efficient human-machine interface
The palletizer's software interface uses visual elements to simplify operations. It also comes with multiple password-protected user levels to minimize entry errors.
The HMI provides manufacturers with total control over pattern and product changeovers as well as the ability to upgrade as their businesses grow.
Intuitive and user-friendly PLC and HMI
Quick changeover of palletizing patterns via stored recipes
Increased productivity and safety
The automatic palletizer performs repetitive and heavy motions to improve outputs while helping reduce employee injuries.
It comes with safety light curtains, handrails, interlock doors, and automatic safety latches on the elevator to ensure the workers' safety.
Compliant with Performance Level D and Category 3 safety standards
Get detailed specifications about this equipment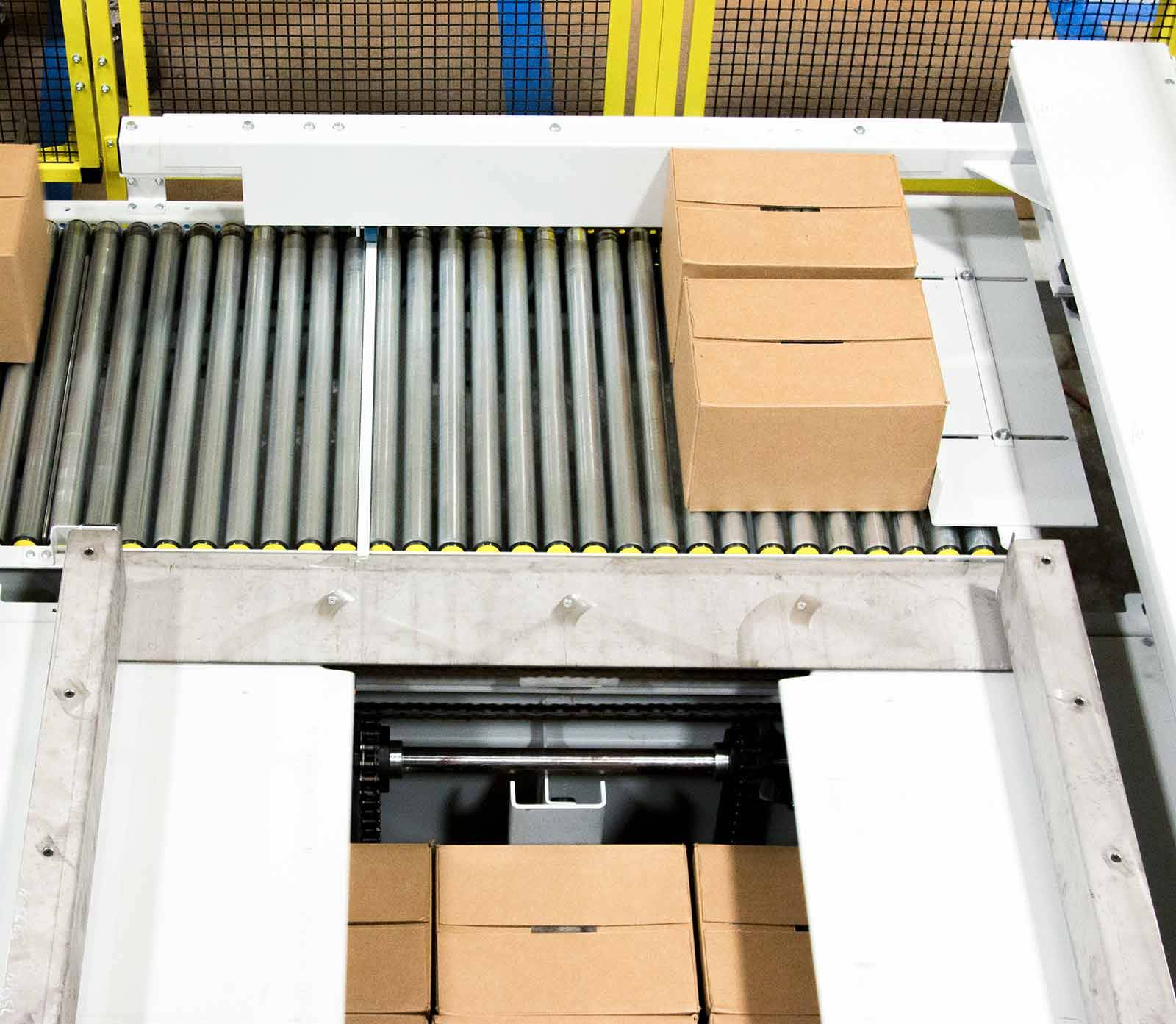 The operator chooses a pre-programmed pattern on the HMI. 

A pallet is dispensed to its stacking position on the hoist. A sheet can be applied if required. 

Cases are brought into the machine from a high-level case conveyor and metering belt. They are oriented and positioned in a row according to the pattern. 

When a row is formed, it is swept onto the slide plates. This process is repeated until an entire layer is formed.  

When completed, lateral bars gently compress the layer to the center to increase stability and minimize damage during shipment. 

While the layer is being compressed, the heavy-duty elevator raises the pallet, and the bi-parting slide plates open, depositing the products gently on top.  

The hoist is lowered, and the process is repeated until the pallet load is completed.  

Once done, the entire pallet is lowered to the discharge conveyor, and a new pallet is retrieved from the dispenser.
Additional options
The APH-5300 can be equipped with various options to fit your specific palletizing requirements.
Sheet dispenser to stabilize loads
Polar Package using unique design and components rated for -20 ºF environment
Wash-down parts for easy cleaning
Integrated pallet wrapper to secure loads
Lift-up rake to optimize speed
Partnering in your success
Premier Tech offers unbeatable services and support throughout the lifecycle of your equipment.
Experts in packaging since 1989
Experts in packaging since 1989
Effective engineering capabilities
Effective engineering capabilities
Need help finding the right palletizer?