Pallet Configuration: The Best Practices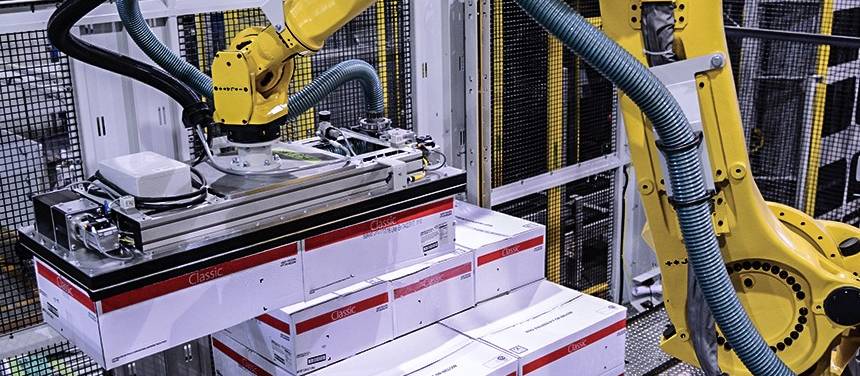 You might not realize it, but pallet configuration is an aspect of your business that could drastically improve your operational efficiency. In this article, we'll go over the aspects to keep in mind in regards to pallet configuration, and we'll also provide you 6 steps that will help you reach the perfect pallet configuration for your product.
First things first, let's get the variables of pallet configuration out of the way:
Type of pallet
Size of pallet
Stacking pattern
Rotation of layers you will opt for
Type of packaging(boxes or bags)
Number of items per row and per pallet
These data points will be crucial in determining the optimal pallet configuration for your needs, and ultimately the overall use of your palletizers. Yes, these are lot of things to take into account, but really, the golden rule is to keep things consistent throughout your line for each point above.
 
Size and type of pallet configuration
Whenever possible, use the same type of and size of pallets for everything. Have a discussion with your client to determine a model that will fit your packaging line, and stick to it. Your product and packaging material should dictate your pallet pattern style. For example, block and brick are often used with cases as they often include several units, while pinwheel/tapered stacks are often seen for bags but can also be used with cases. 

When you're using the Brick pattern for boxes or the Pinwheel for bags, always rotate each level at 90°. This will provide more steadiness to your load. Whatever pallet configuration you end up choosing, make sure it's as cubic as possible. Not only is that shape more efficient, a pallet that is too tall might get refused by transporters or potential customers.
 
Pallet configurations to avoid
Your product shouldn't overhang from the sides of the pallet. In certain cases, a minimal level of overhang could be tolerated, but the general rule is that this situation makes for riskier handling operations. 

Avoid pyramidal pallet loads, not only are they less stable, but the boxes at the top have a much higher risk of damage during transport. This is where a robotic palletizer comes in handy since pallet patterns are stored in preset recipes that will analyze all your data automatically and use the optimal pallet configuration. In the case of bag palletizing, if you do not double or triple stack your pallets in the warehouse or the shipping truck, a certain amount of crowning might help to keep the load from overhanging too much on the pallet.

Don't let any unnecessary wide gaps in-between cases or boxes. The only approved spaces will be the ones suggested by a proficient pallet pattern software. 
The ideal pallet pattern
Whether it's to increase your efficiency, your profit margin or to respond to clients' requirements, the benefits of a well-thought pallet pattern are substantial. Several industries now outright require optimal pallet configurations and consistent loads, these are no longer just nice to have. This is where automated palletizing really becomes crucial, since it implements and handles most of the concept we mentioned for you.

But modifying pallet patterns or creating new ones can be a struggle if the integrator you chose doesn't provide the right tool with its palletizer, like the Premier Tech Pattern Expert user interface . This intuitive and user-friendly interface allows users to easily modify existing palletizing patterns and to create new ones with very accurate positioning. Pattern changeover can be adjusted quickly directly in the HMI, making the operator's life a lot easier. Whether you prefer a robotic or a more conventional approach, make sure you always get the perfect pallet configuration for your needs.
At the end of the day, there is no "perfect" pallet configuration. It all depends on how you operate, your clients' needs and the types of loads, but there is definitely a pallet configuration that is best for your needs.